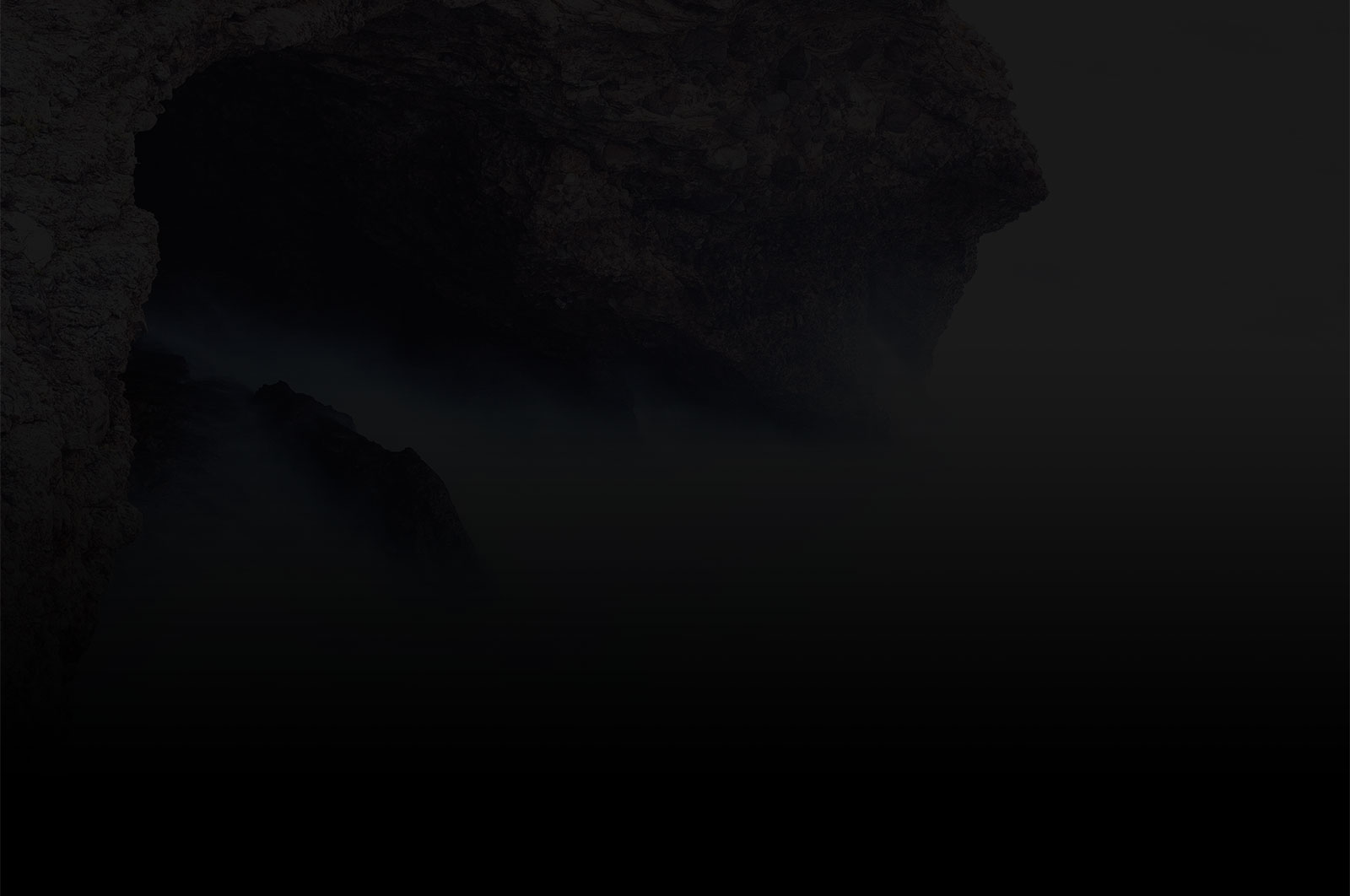 How To Start With Your App Idea
January 01, 2019
|
Mobile Apps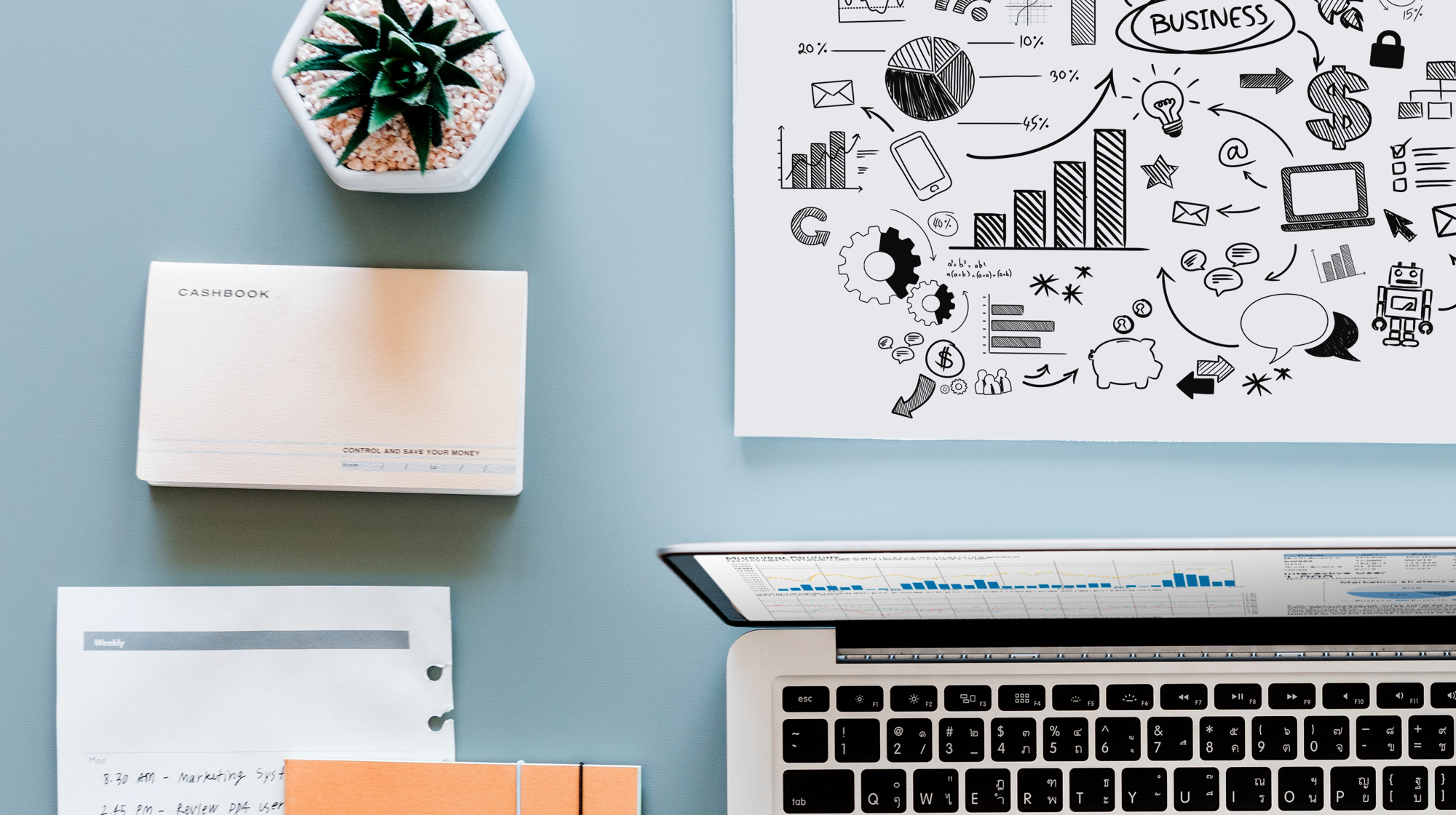 Being a digital creative agency, we often have companies, individual idealists, and even family members approach us with their creative ideas. Many come up with really great ideas! However, often they don't know the proper steps in getting started.
Since Black Flag Creative began sailing the digital seas, we have helped a lot of people and companies bring their vision to life. Here, we will share a step by step process that will assist you in transitioning your idea to reality.
1. Your Brilliant Idea
A successful product always starts with an idea. Your idea can change the world.
Once you've made the decision to journey with your idea to discover the possibilities, start by jotting down notes; lots of notes! Write down everything that comes to mind that is related and supports your idea. Even if it sounds stupid, write it down.
An idea might sound ridiculous to you initially, but here's what someone at Western Union had to say in 1876: "This 'telephone' has too many shortcomings to be seriously considered as a means of communication. The device is inherently of no value to us."
Even the idea of having a personal computer didn't seem very feasible to Ken Olsen (President, Chairman, and founder of Digital Equipment Corp) in 1977.
He said, "There is no reason anyone would want a computer in their home." Now, we cannot imagine life without these two invaluable resources.
A successful product always starts with an idea. Your idea can change the world.
2. Research and Idea Validation
This stage is very important. You need to determine whether your idea will solve any real life problem, or create opportunities that could change lives.
Investigate whether there's an audience for your app, then identify your target demographic. You don't want to build a product that no one wants or needs. Look at competitors and their offerings, if there are any. Find out how you can make your idea stand out. It would be great to have an original idea but it is not a necessity.
For example, Apple is not the first company to come up with a touch screen mobile phone, but they managed to change the industry with their unique features.
On the other hand, IBM Simon is the first touchscreen phone to be launched and some refer to it as the first "smartphone," yet many of us have never even heard the name.
3. Business Model
It's important to identify how your app idea will be monetized.
There are various ways an app can make money; it could be a paid app, it could be through subscription, in app purchases, or by running ads. Your app can be completely free to use which can help grow your customer base. This huge user data can be monetized in many different ways.
We all know Twitter and Facebook use this business model. They use the user data for targeted ads.
Another way an app can make money is by being the middleman and connecting an user with a service, such as with Grubhub.
Determine which business model will be the best foundation for your app idea.
Determine which business model will be the best foundation for your app idea.
4. Wireframe
Create a list of features that you would like to see on your app. From there, identify the core features.
Now it's time to create your wireframes. You don't need to be an expert to create a wireframe, you can use paper and pencil to roughly draw one yourself!
Remember, your goal is to create a clear specification of your app and to show how you want it to work.
To give you an idea, take a look at the very simple wireframe we created for an app concept to track one's daily water consumption. Your app may not be this simple, but you get the idea.
Here's how we transitioned the wireframe into a high fidelity visual concept.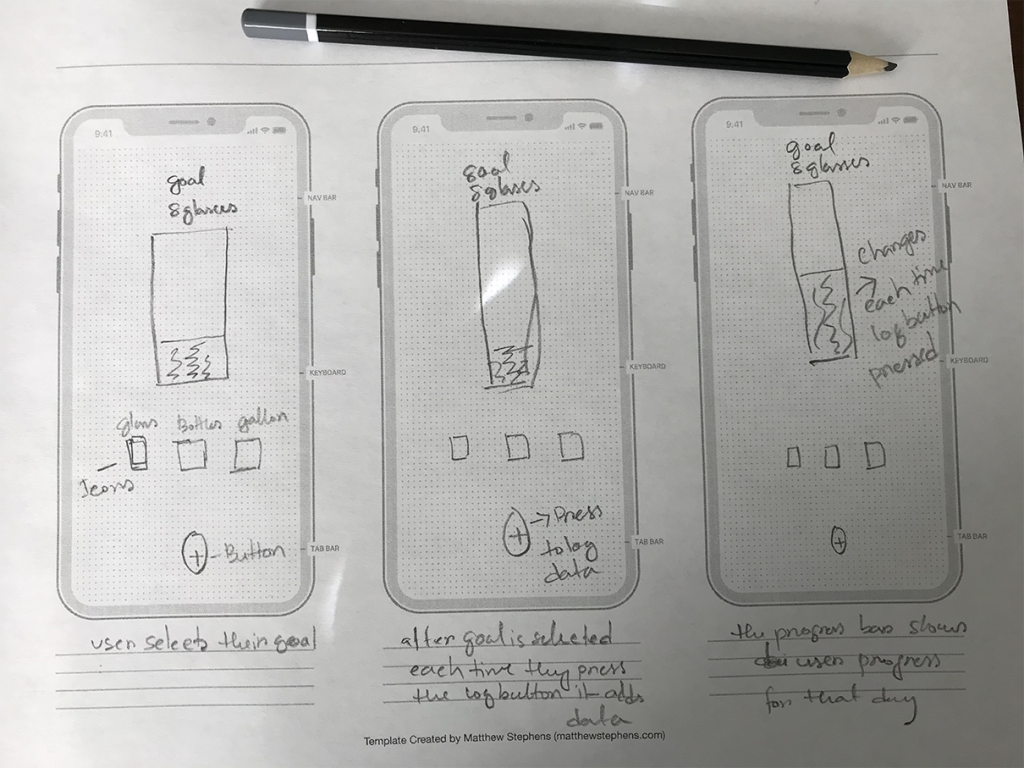 Check out how we brought the above design concept to life with the final app prototype, which can be seen below: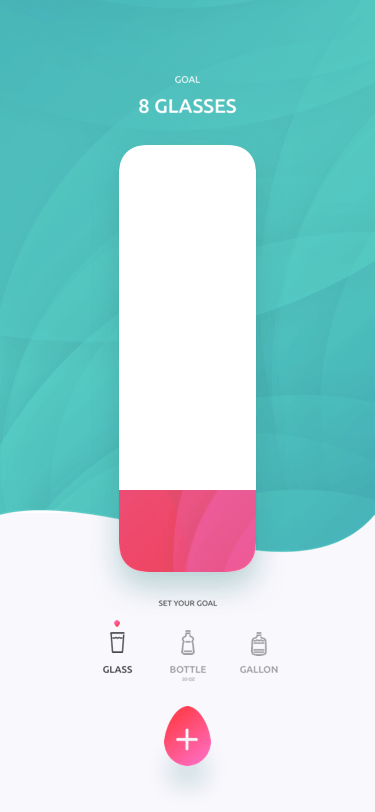 There are many online tools that may help you to create a more detailed wireframe. If you aren't inclined to creating a wireframe, explaining your app idea in words and making a list of features is always the best place to start.
If you don't want to do any of that, just talk to the app development agency that you plan to hire and ask them to do it for you. With a small fee they will create the wireframe.
Your goal is to create a clear specification of your app and to show how you want it to work.
5. Talk To An App Development Agency
Now that you have a basic wireframe and specifications, it's time to get an estimate from an agency.
Keep in mind that an agency may not be able to give you an estimate right away. Depending on the complexity, there may be a few question and answer sessions to dive deep into the understanding of your app and what it will entail.
A good app development agency will ask you questions about your product, your goals, and your vision. Make sure you answer all the questions in detail. Your answers and vision will assist the agency in understanding your product and idea fully. The more others understand, the better the end result will be.
App agencies will also help you with your design and marketing strategies. They have the knowledge and experience that can help guide you and your idea in the proper direction.
Note that your goal will be to create a minimum viable product (MVP). It is safe to start with a MVP. When you see that your user base is growing, you can then begin adding more features and slowly launch a feature-rich app.
Choose one platform initially, either iOS or Android. If your target demographic are mostly iPhone users, then go for iOS and if they are mostly Android users, go for Android.
It is best to get estimates from multiple agencies. Make your final choice based on their portfolio and testimonials. As with most things in life, don't go cheap! Cheap may not get you the best results and you may end up exhausting your time and money without ever bringing your product to market.
It is safe to start with a MVP.
6. UX/UI Design
After selecting the agency that you would like to partner with, they will start by creating the UX/UI design and user flow of your app. This is very important.
UX Design, referred to as User Experience Design, ensures the usability, ease of use and interaction your users will experience when using with your app.
UI Design, referred to as User Interface Design, establishes the appeal or the look and feel of a product interface. A great design will help you to stand out and will help create a good brand positioning.
If you refer to Reminder apps, most of them have very similar features. Apple has a built in reminder app, but people often use third party apps with almost the same features. Most of the them choose alternative apps because of the user experience (UX) and user interface (UI).
Once the UX/UI Design process has concluded, you will have a complete visual representation of your entire app and all of its features.
Your chosen agency may also build a hi-fidelity prototype that allows you to get a feel for the final flow and interaction. It will facilitate sharing your idea visually and getting feedback from end users. The feedback will help you to further shape your design. In some cases, a hi-fidelity prototype will assist you in deciding whether you are ready for development or should make any adjustments.
Below you can see how we created a UX/UI for an app concept. Then we turned that into a hi-fidelity prototype.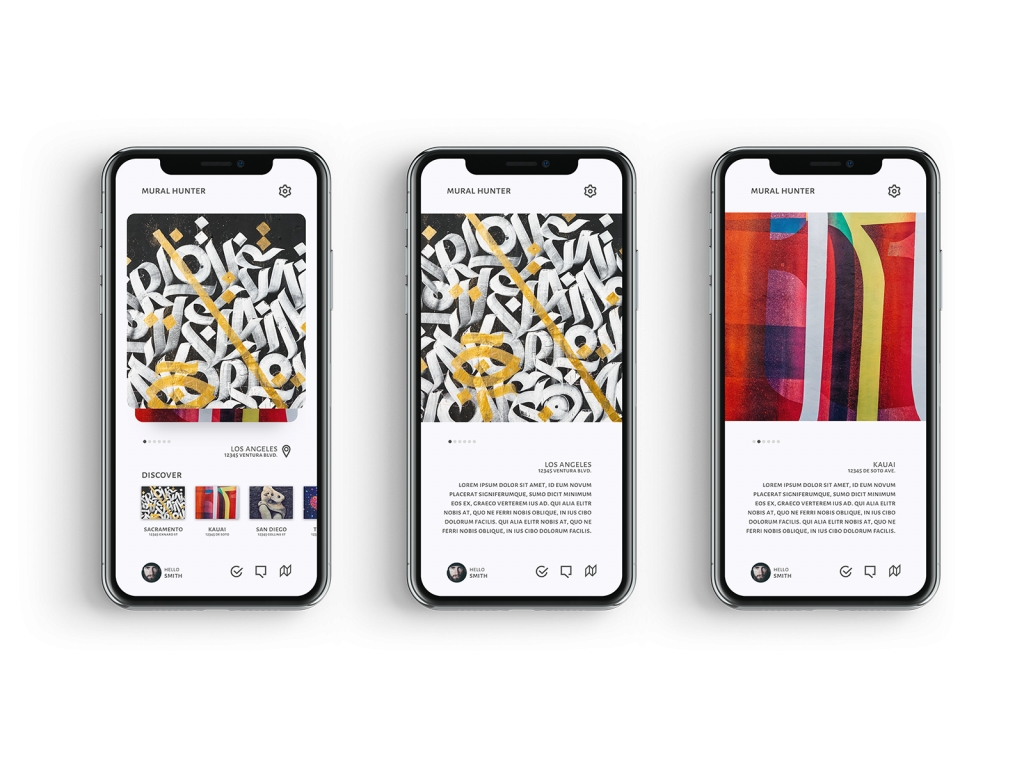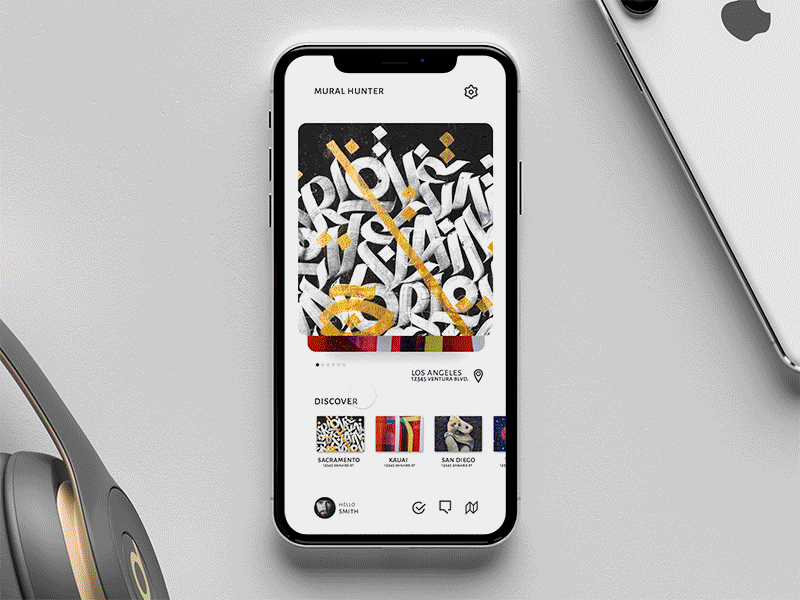 You can play around with the above interactive prototype that we've created from here. Experience this app concept first hand to see how a hi-fidelity prototype can better your understanding of your final app product.
A great design will help you to stand out and will help create a good brand positioning.
7. Development
Now that the UI/UX design phase has concluded successfully, fireworks are bursting and the stars are glistening, it's time for the development phase.
Your partnering agency will provide all design assets and deliverables to the development team to begin developing your app product.
An agency should always keep you updated every step of the way. It's common for an agency to schedule follow up meetings with you to share progress and get feedback once they've arrived at key milestones.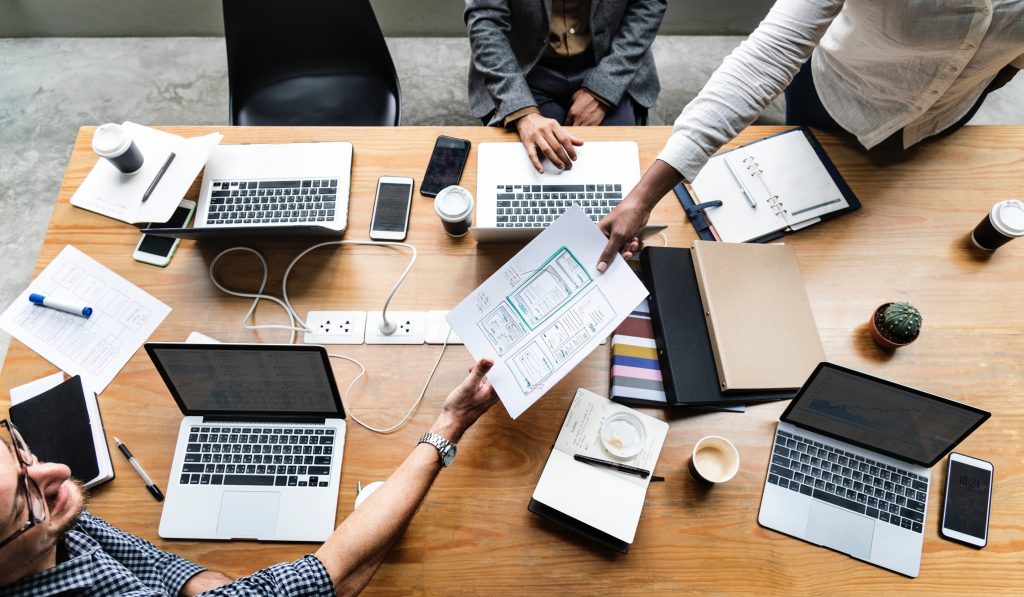 At this point, you need to start testing the app and involve end users
8. Launching and Marketing
When you are satisfied with the development, it's time to launch the app. Your agency will take care of the publishing. They will publish the app on either Apple App Store or Google Play Store or both if you chose to go for both markets.
Now you need to market your app.
Third party endorsements are one of the best ways to promote your product. Reach out to tech bloggers and ask for a review of your app and request users to leave reviews. Place your app on ProductHunt. Word of mouth is also a very powerful way to promote your new app.
You can also advertise your app on social media platforms like Facebook, Twitter, and Instagram. A press release on a paid or a free website is also helpful.
There are many options when it comes to marketing your app. Always consider your target audience and then decide which direction is most beneficial to you.
It's important that you start creating a brand at this point. Having a unique brand identity and positioning will always help you stand out from the competition; future or existing.
Word of mouth is also a very powerful way to promote your new app.
9. Next Phase Preparation
Now that your app is launched, it's time to collect user data; Find out how end users are responding.
If you're getting a good response and feel like your app has good demand, then prepare for the next phase. Now you can push new features and/or improve and expand an existing ones.
Also, at this stage, you can reach out to investors to scale your app to different markets.
While we all want to see success in every idea we have, it's important to be understanding that failure is a possibility. It doesn't mean that fail is the end result. If anything, failure is learning from any mistakes made and improving on strategy.
If you see that your app is not doing well, then find out why. Fix the issues and try again. However, if you are failing, you should fail fast. It's better to fail at an early stage than later. That way you can save money and time.
If you are not successful, move on and work on something else. Like we said before, you should always have more than one idea. Traf-O-Data wasn't a success for Bill Gates, but the experience from it helped him to create Microsoft.
It's better to fail at an early stage than later. That way you can save money and time.
Conclusion
Remember that any idea can turn into a life changing service or product. All great products start with an idea!
Remember to start with collecting your thoughts and writing them down. Then do some research to validate your idea and determine the best business model that works for your app. Next, create a wireframe and list of core features you would like to start with. You can then quickly transition to creating a minimum viable product (MVP) by partnering with an agency to do UX/UI design and development for you. Once these steps are complete, you will be able to launch your app and promote it proudly, making a difference in the world.
If you have an idea and you need help bringing it to life, our crew at Black Flag Creative would be delighted to help you on your app idea journey. We can offer consulting services that will help guide you on the right course by creating an effective strategy through wireframing, designing and developing your new app idea and making it a reality.
Thank Ye for Reading Matey!